Hadi Choopan is the New Mr. Olympia 2022
The current reigning Mr. Olympia 2022 is no one else but Hadi Choopan who hails from Iran.
With this hard work and dedication, he has now established himself as one of the ivy league bodybuilders who definitely one of the best that the world has ever seen.
This article delves deeper into his career as to how he started and how he reached the pinnacle of success by winning Mr. Olympia 2022!
This is what Hadi is known to have posted on his Instagram account after winning the title:
In the name of God, today I want to thank my coach and teacher for all the help he and his family gave me and during this time they were kind to me with all their heart and we won together. I congratulate my coach and big brother for this championship. I hope he is happy
Thanks my coach. @hanyrambod @missnaz
Hadi Choopan is Mr. Olympia 2022
The Zappos Theater in Las Vegas, NV was buzzing with fans who were eager to know who would win the coveted title this year and it was surprising that the defending champion The Big Ramy fell to fifth place while Hadi Choopan scaled to the top to emerge as the winner. Some of the other powerful bodybuilders in the race include Derek Lunsford, Nick Walker, and Brandon Curry.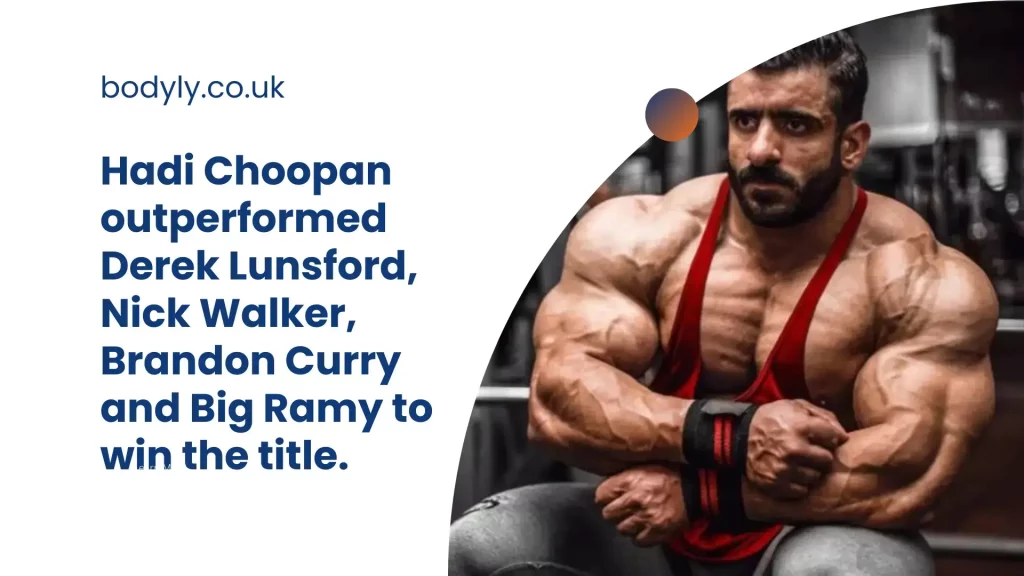 2022 Mr. Olympia Results
Hadi Choopan, as mentioned above is the winner and he got a price of $400,000.
Derek Lunsford was the runner up earning $150,000 in the competition.
Nick Walker was placed at number 3 with an earning of $100,000.
Brandon Curry was placed at number 4 with $40,000 prize money.
Mamdouh "Big Ramy" Elssbiay came down to number 5 with a winning prize of $30,000
Hadi's Stats
Here are some stats to know:
Weight – 200-220lbs(90.7-100kg)
Height – 5'7 (169 cm)
Age – 37 years, born on 26th September 1987
Nationality – Iran
Early Life
Hailing from Iran, Hadi Choopan is known to have been born on the 26th of September 1987 in the Fars Province of southern Iran. Since his family was poor he is known to have started working at an early age to make both ends meet. It is known that he started peddling goods and later on started working in construction.
What is amazing is that in spite of loving in poverty while trying to do menial jobs, he developed an interest in bodybuilding. Hadi used to do mocking poses of famous bodybuilders and somehow got interested in lifting weights himself. At that time he was just 13 and did not know what the future had in store for him.
Initial Bodybuilding Career
Starting at an early age, Hadi made some decent muscle gains and quickly started looking like a bodybuilder. In 2002, he is known to have started training with Jamshid Owji. Even though his new trainer let him start by lifting only 5 kg weights, he started training with heavier weights and dumbbells eventually as he got bigger.
Here are some feats that he achieved:
In as little as 3 years of training as a professional bodybuilder, Hadi Choopan got placed at no. 3 in a national competition.
He also won first place in various bodybuilding competitions in his native Province of Fars.
It was later in 2005 that he won his first national title and everyone started noticing him.
In 2008, he quit training with Jamshid Owji and for a few years trained without a trainer. Even without a trainer, he won many more national titles. He also won a silver medal at WBPF World Bodybuilding Championships.
In 2013, he started training with Ali Ne'mati and his professional career as a bodybuilder started to take off.
Pro-Bodybuilding Career
Training under Ali Ne'mati started yielding great results with Hadi winning first place in the WBPF Asia Championships in 2013.
Not just this, Hadi also won the gold in WBPF World Bodybuilding Championships for three consecutive years from 2013 to 2015. However, this was the only competing that he did in those years.
In 2017, he stopped training with Ali Ne'mati and began working out with Hany Rambod. This is when his career started forwarding leaps and bounds.
At Mr. Olympia Amateur in 2017, he was able to win the gold medal.
He is known to have competed 3 more times in the year 2017 and won silver medals in those competitions. One of the most interesting developments was him losing the Asia Grand Prix to multiple-time 212 Olympia Champ Flex Lewis, while this decision was seen as controversial by most people who were in attendance at the event. According to most of those present, Choopan had a bigger and better physique as compared to Lewis.
It was at this time that The Persian Wolf became a force to reckon with.
Unfortunately, he had to face a lot of issues getting a US visa, and thus, he was not able to compete in a couple of shows. Some of the noticeable shows that he missed because of visa issues included Arnold Classic and Mr. Olympia in 2018. Fortunately, he was finally able to get such issues resolved in order to participate in 2019.
Accomplishments since 2017
Here are some of the titles that he has participated in since 2017:
| | | |
| --- | --- | --- |
| Year | Championship/Title | Medal/Position |
| 2017 | Mr. Olympia Amateur | Gold Medal/Overall |
| | IFBB Sheru Classic Pro | Silver Medal |
| | Asian Grand Prix | Silver Medal |
| | San Marino Pro | Silver Medal |
| 2018 | Dubai Expo | Silver Medal |
| | IFBB Portugal Pro | 1st |
| | Asian Grand Prix | Gold Medal |
| 2019 | IFBB Vancouver Pro | Gold Medal |
| | Mr. Olympia | 3rd |
| 2020 | Mr. Olympia | 4th |
| 2021 | Mr. Olympia | 3rd |
| 2022 | Mr. Olympia | 1st |
Hadi Choopan Training Regimen
In order to get the best possible results, Hadi Choopan tries to use a combination of strength and hypertrophy training. Quite often, what he would do is that one day a week, he would lift heavy weights focusing to increase his strength and then later on another day he would train the same muscle focusing on volume.
As far as his strength workout goes, he likes to take a rest of 2-3 minutes in between sets. However, while hypertrophy training, he likes to cut short the rest in between sets to 30-60 seconds. According to him, this is highly effective in allowing his heart rate to stay up so that he gets a cardio boost. Not just this, it also helps his body burn fat faster.
Apart from this, he does not like to do specific cardio training. Before competitions, he is known to do HIIT sessions a week.
Click play the video below to check out Hadi Choopan training chest for Mr. Olympia 2022:
Diet and Nutrition
In order to gain lean muscle mass, Hadi Choopan consumes a diet that consists of brown rice, avocados, skinless chicken breasts, etc., for the most part of the year. The main benefit of these foods is that they help keep his fat levels low so that it is easy for him to prepare for competitions.
Apart from this, he is also known to consume various kinds of supplements including whey isolate, BCAAs, L-Carnitine, Fish Oil, Multivitamins, etc.
Also Check out:
Social Media Presence
Now, let's talk about his presence on social media. Hadi Choopan is extremely popular on Instagram and his account has more than 3.5 million followers.

Conclusion
Hadi Choopan has definitely worked really hard to win Mr. Olympia 2022 and he looks in excellent form right now. Where he goes from here now is a matter to watch out for. Just hoping The Persian Wolf has great success in his future endeavors!
References:
Tanveer Quraishi, author of Steroids 101 has extensive experience in the field of bodybuilding and has been writing online on various muscle-building and other health topics for many years now. He is not just interested in bodybuilding but is a great football player too. When he is not writing for his site or training at the gym, he loves to spend his time with this wife and kids.