Is Brian Shaw on Steroids or is he natural?
Brain Shaw with this gigantic figure looks highly imposing and one often wonders if he is on steroids.
Since I myself have been training for many years now, I can say from personal experience that it is hard to find a guy with such massive natural muscles unless he is blessed with out-of-this-world genetics!
In this article, we are going to see if Brain Shaw is taking steroids or if he is a natural, as he proclaims himself to be.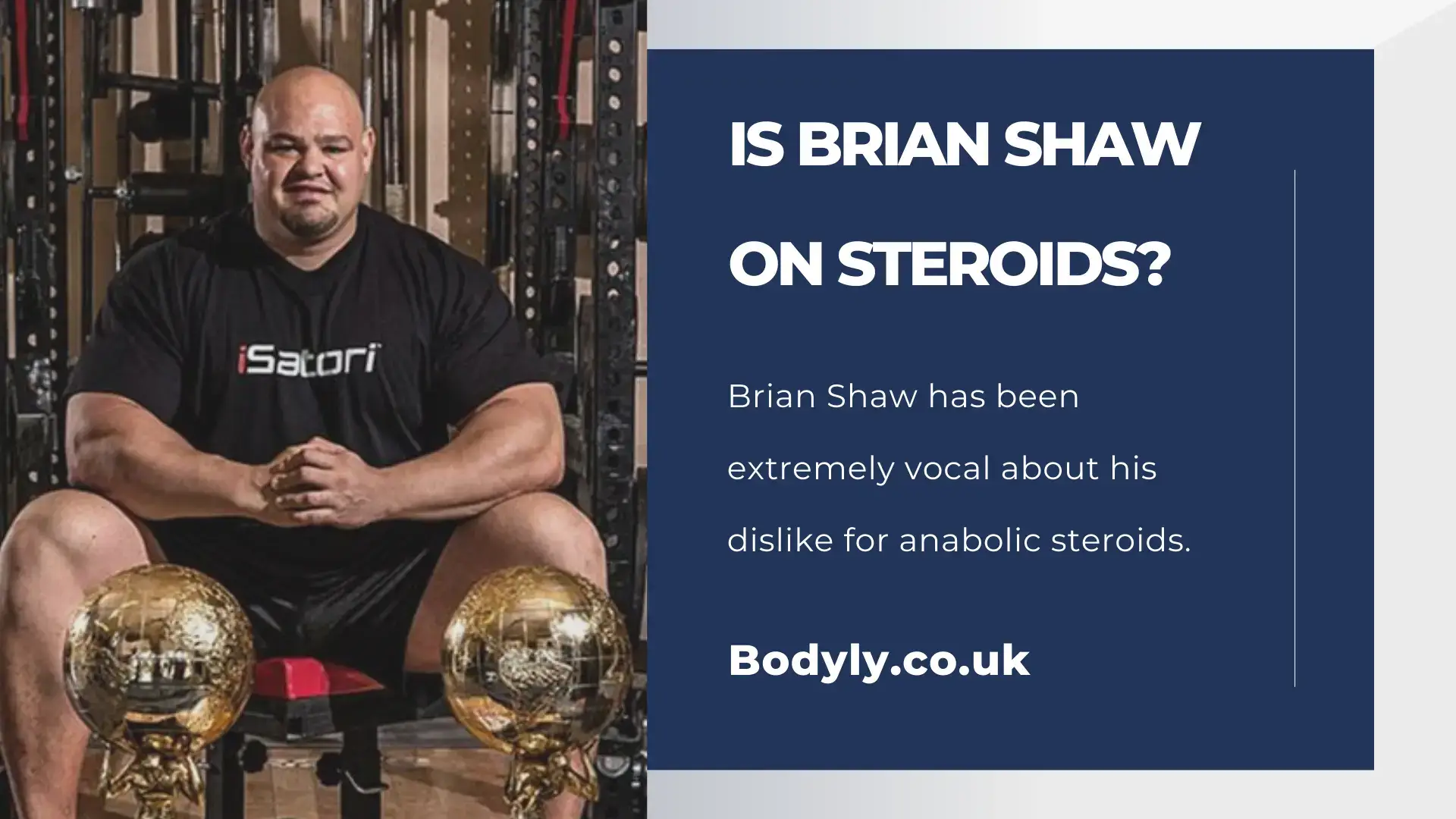 Is Brian Shaw Using Steroids?
On the face of it, he does not seem like he is using steroids. This is because he is extremely vocal about his dislike for steroids and PEDs.
According to Larry Witt, national sales director of Golden-based AST Sports Science, Shaw is someone who is "anti-steroid".
To quote him,
"It frustrates me because when people see big guys, they say, 'It's all drugs,' That's because people don't want to work hard. But I'm out here almost every day. I haven't missed two straight workouts in five years. It's tough, it is, but I don't know if you're ever going to have a completely tested sport," said Shaw
This quote from Brian Shaw shows how much he despises steroids and other drugs that bodybuilders and athletes often use either to get jacked with bulking muscles or to get ripped and enhance vascularity.
Signs That Brian Shaw Might Be Using Gear
Before I get into details, it is important to keep in mind that doping is deeply rooted whether it is bodybuilding or strongmen competitions and what is even worse is that it is not openly talked about in most circles. I must say that some of the strongest men including Iceland's strongest man, Hafthor Bjornsson are known to have admitted to taking steroids.
Not just this, doping is considered to be one of the key factors leading to the death of many strongmen at an early age including Jon Pall Sigmarsson of Iceland.
All this raises suspicion of Brian Show too having used steroids.
However, there are some things that show that Brian may not be as natural:
Hair Loss
Now, this is something that you can clearly make out with the help of his before and after photos. If you look at Brian Shaw's photographs from the old days when he used to play basketball, you will find that he certainly had more hair on his head.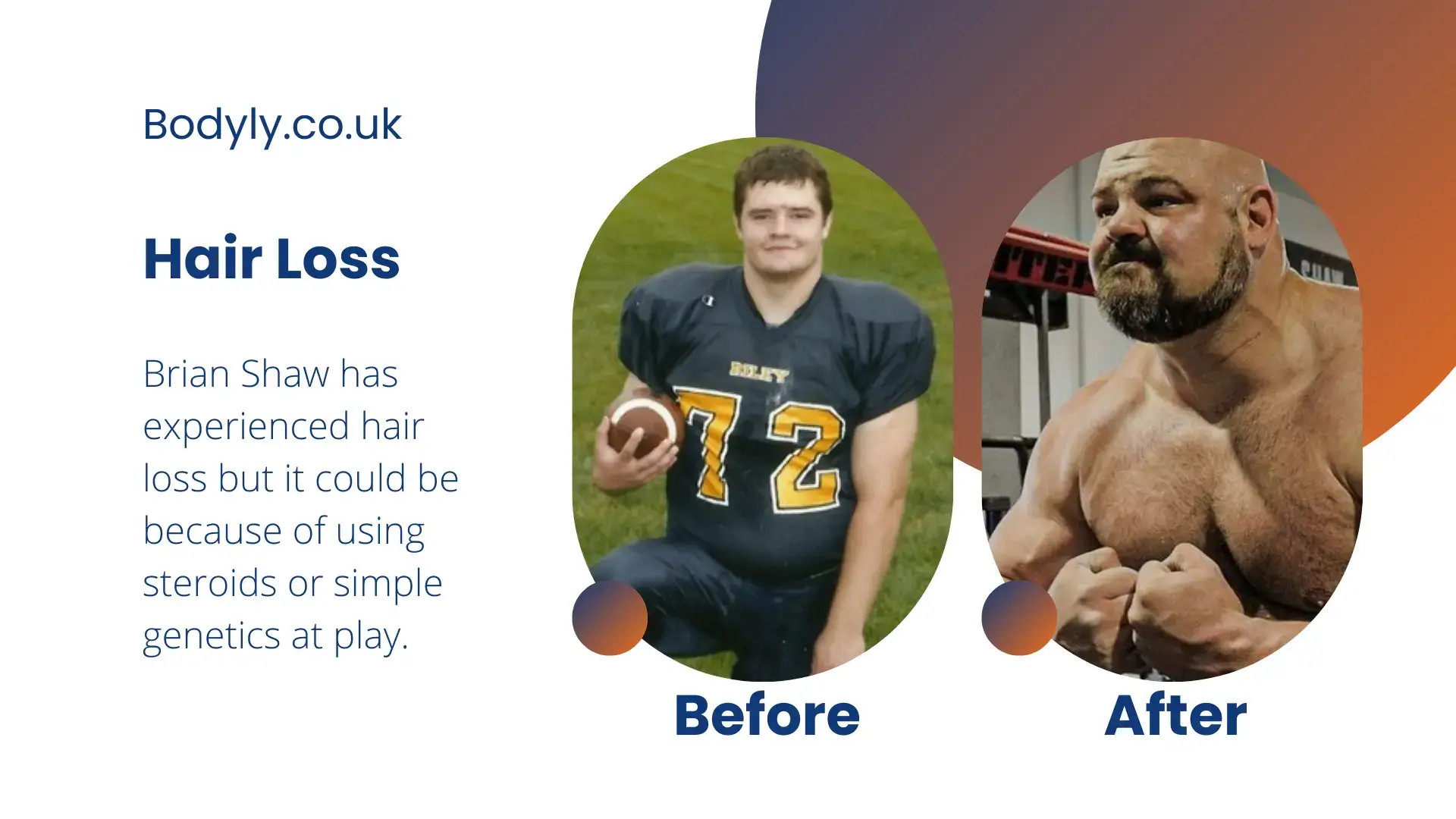 Now, compare this with his photos from his career as a strongman. The photos at the beginning of his career show more hair on his head as compared to those taken while he progressed as a strongman.
Now, this could be because of his genetics but at the same time, it could also be possible that his hair loss might have compounded because of taking steroids.
Massive Muscles with Bulging Forearms
Looking at his muscle growth, it won't be wrong to say that Shaw seems to have gone through a massive body transformation over a period of 15 years.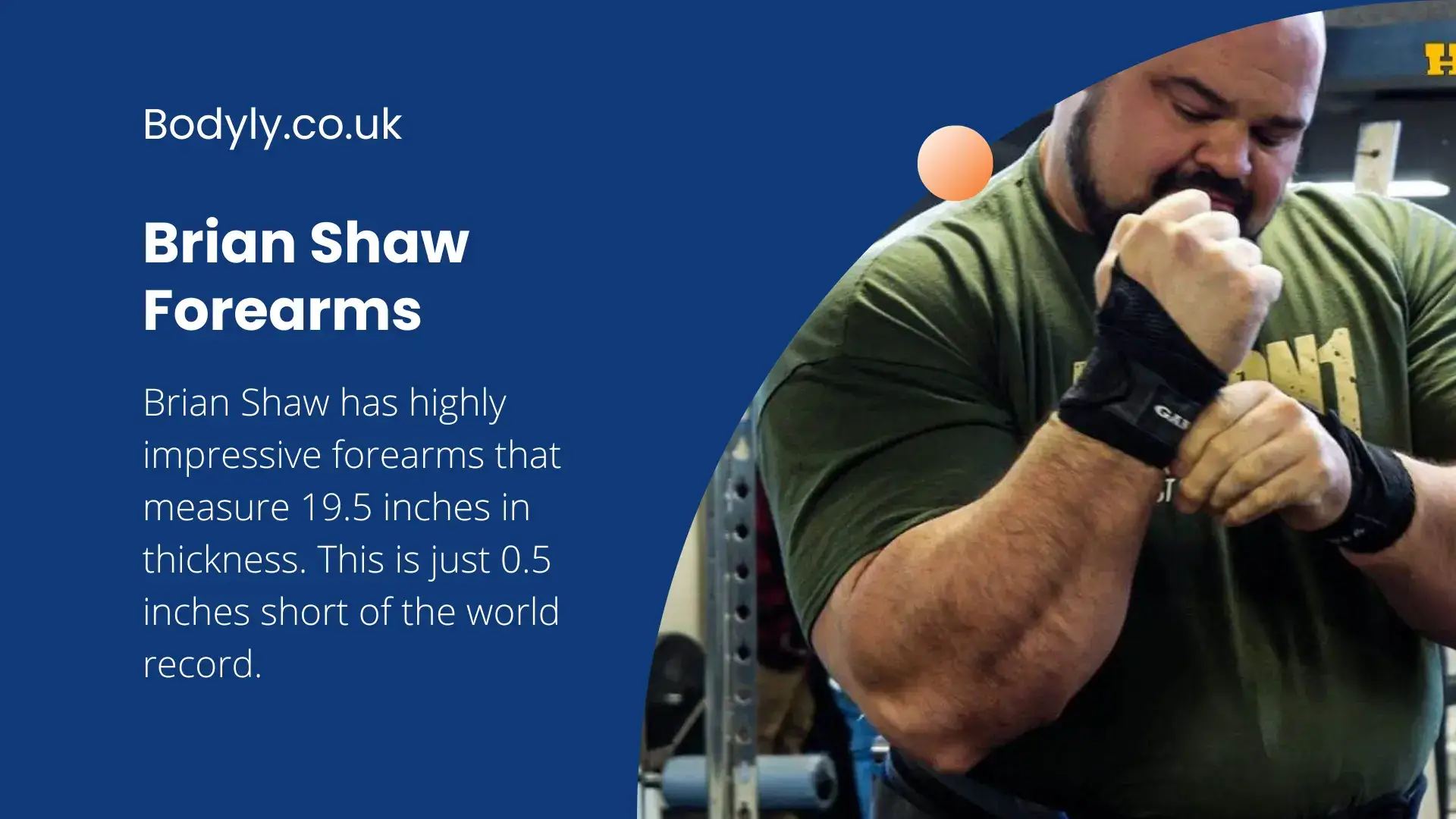 One of the most unique things about his body is that he has very powerful forearms. At 19.5 inches, he is just half an inch short of Gunnar Rosbo who holds the record for biggest forearms at 20 inches.
As a matter of fact, there's a video showing Jujimufi, YouTuber and bodybuilder sizing up his forearms at 19.5 inches. In other words, it is a proven fact and not just hearsay that this guy has one of the best forearms in the world.
Now, this could be a result of using steroids too.
Also Read – Is Triple H on steroids or natural?
Shaw's Amazing Strength
One of the most important features of anabolic steroids is that they can give a massive boost to your strength. Deca Durabolin is infamously known as the King of Strength Steroids. Not just this, there are a couple of other anabolics that too can help multiply your strength manifold so that you lift and train with incredibly heavy weights.
As far as Shaw is concerned, he has shown some amazing feats of strength in both his home gym as well as on various shows. As a matter of fact, the way he lifts heavy weights is as if he is a superhuman.
I must mention here that most people find their strength levels plateau within the age group of 35 to 40. Shaw is 39 years of age now and he is still going incredibly strong. As a matter of fact, he is known to have bagged a couple of titles in the past few years. Just last year (2021) he is known to have broken the keg toss record in the World's Strongest Man contest.
Given his track record in such contests and his age, he may be suspected of using anabolics or steroids to up his strength factor. However, all this is circumstantial. Nothing can actually prove that he has been juicing in clear terms.
Shaw's Lifting Career
Let's have a brief look at what Shaw has been doing for the past couple of years:
He is known to have started his sports career as a basketball player in high school. He attended Black Hills State University on a basketball scholarship.
He is also known to have developed a liking for weights while he was focusing on his basketball career.
He is known to have graduated from Black Hills State University in 2004 and in 2005 he is known to have started his career as a Strongman.
He is also known to have won various titles including the World's Strongest Man, Arnold Classic Strongman.
One of his most noticeable achievements was when he World's Strongest Man in both 2015 and 2016.
Shaw's Best Feats
Brian Shaw is famous for his massive or thick forearms, as already mentioned above. You can actually make it out easily in so many of his videos.
Here are some of his best feats:
| | |
| --- | --- |
| Bench Press | 240 kgs (530 lbs) x 2 |
| Deadlift (from Blocks) | 495 kgs (1,091 lbs) |
| Squats | 455 kgs (1,003 lbs) |
| Long Bar Deadlift | 468 kgs (1,031 lbs) |
| Log Press | 211 kgs (465 lbs) |
| Rack Pull | 619 kgs (1,365 lbs) |
Steroid Tests
The next big question is – "Was Brian ever tested for steroids?"
And the answer is a resounding NO!
Brian Shaw has never been tested for using steroids. There is evidence to suggest that he has ever been tested for using steroids or gone through a drug test.
It is interesting to note that if he were tested and found positive for having done steroids then he would have been banned from many competitions that he has participated in since 2009.
Also read: Find out if Connor Murphy, Jeff Nippard, and Chris Hemsworth are natural or not. as far as Strongmen are concerned, Eddie Hall is often assumed to have used steroids. Find out more about Eddie Hall taking steroids.
Verdict – Is Brian Shaw Natural or On Steroids?
After going through the facts mentioned above, some of the things that suggest that he might have used steroids include his hair loss, incredible strength, and massive forearm size.
But he has never been tested and has himself been extremely vocal about his dislike for steroids.
Furthermore, it could be assumed that his incredible power and strength, thick forearm, etc., could also be achieved with the help of natural supplements that are safe and legal.
Thus, I would like to believe that this man is not someone who has been taking steroids.
If you want to get huge muscles and incredible strength, you can, however, try legal steroids that are made with natural ingredients and mimic various steroids such as Dianabol, Deca, Trenbolone, Sustanon, etc. Such legal steroids have become a massive hit among bodybuilders who want to make quick muscle and strength gains while staying natural or without any nasty side effects. Such legal steroids are 100% safe and do not even require a PCT. Check out the best legal steroids for bulking by clicking here.
References:
Tanveer Quraishi, author of Steroids 101 has extensive experience in the field of bodybuilding and has been writing online on various muscle-building and other health topics for many years now. He is not just interested in bodybuilding but is a great football player too. When he is not writing for his site or training at the gym, he loves to spend his time with this wife and kids.